New York City is a melting pot of cultures, styles, and scenes, and its LGBTQ+ community is no exception. From Manhattan's high-energy club scenes to Brooklyn's laid-back neighborhood bars, NYC offers a variety of gay bars to fit every mood.
Whether you're a local looking for a new spot or a visitor wanting to explore, this guide will take you on a tour of the 10 best gay bars in NYC, updated for 2023.
Why This List?
New York City is rich in history and diverse in offerings, particularly when it comes to gay bars. This list aims to capture the diversity and essence of NYC's LGBTQ+ scene and introduce you to spots that each bring their unique flavor to the city's vibrant community.
We've got something for everyone: from historical sites to sports bars, from Broadway sing-alongs to leather communities.
What Makes a Great Gay Bar?
Choosing a great gay bar isn't just about cheap drinks or good music, though those factors are undoubtedly important. We looked at the atmosphere, the crowd, the events, and the history of these places to present you with a list that captures the spirit of New York's gay scene in all its glory.
10. Metropolitan: Keeping Williamsburg Queer
View this post on Instagram
Metropolitan is one of Williamsburg's oldest gay bars, offering a rustic interior and a large outdoor patio. It strikes the perfect balance between a dive bar and a club, making it ideal for any mood.
What to Expect
Crowd: A hipster-ish crowd that reflects Williamsburg's artsy vibe.
Vibe: Chill yet lively, especially on weekends.
Specials: Happy hours and regular themed parties.
A Cultural Spot
Metropolitan is also known for its Sunday BBQs and frequent art shows, making it not just a bar but a cultural spot that brings the community together.
9. The Phoenix: Rise From the Ashes
View this post on Instagram
Situated in the East Village, The Phoenix offers a traditional bar experience with a gay twist. Its vibe is neighborhood-friendly, making it a great place for a casual night out.
What to Expect
Crowd: A mix of college students, professionals, and everyone in between.
Vibe: Laid-back and inviting, with a touch of old-school charm.
Specials: Weekday happy hours and weekly events like karaoke nights.
Games and More
Apart from drinks and music, The Phoenix also offers a selection of board games and a jukebox, making it an ideal spot for a more relaxed, interactive evening.
8. Hardware Bar: For High Energy
View this post on Instagram
Another gem in Hell's Kitchen, Hardware Bar, is known for its high energy, superior sound system, and live performances. With a long bar and a spacious dance floor, it's designed for nights you won't forget.
What to Expect
Crowd: A younger crowd ready to dance and socialize.
Vibe: High-energy and vibrant, with a touch of industrial chic.
Specials: Happy hours and special guest DJs that keep the party going.
The Shows
Hardware Bar is renowned for its drag shows, featuring some of the best local talent. If you're looking to immerse yourself in New York's drag scene, this is a must-visit.
7. Ginger's Bar: Brooklyn's Beloved
View this post on Instagram
Located in Park Slope, Ginger's Bar has been serving the LGBTQ+ community of Brooklyn for years. It offers a dive-bar feel with a friendly atmosphere, making it a favorite among locals.
What to Expect
Crowd: A mix of Brooklyn locals and those venturing out from Manhattan.
Vibe: Down-to-earth, casual, and unpretentious.
Specials: A variety of affordable drinks and a pool table for a game with friends.
Unbeatable Ambience
With its jukebox, pool table, and darts, Ginger's provides various options for a relaxed, fun evening. The back patio is a highlight, offering a more intimate setting for conversations.
6. The Eagle: Leather and Community
The Eagle is a leather bar located in Chelsea, offering a gritty, masculine atmosphere. But it's not just about the leather; it's a space that celebrates all kinds of kinks and fetishes, making it a hub for various communities.
What to Expect
Crowd: A crowd that's as diverse in age as it is in interests and fetishes.
Vibe: Bold and unapologetically intense, providing a safe space for kink and fetish enthusiasts.
Specials: Different themed nights like "Jockstrap Wednesdays" offer something for everyone.
Community Support
The Eagle doesn't just serve drinks; it serves its community. With various charity events and outreach programs, they've established themselves as more than just a bar but a support system for many.
5. Marie's Crisis: For the Broadway Lovers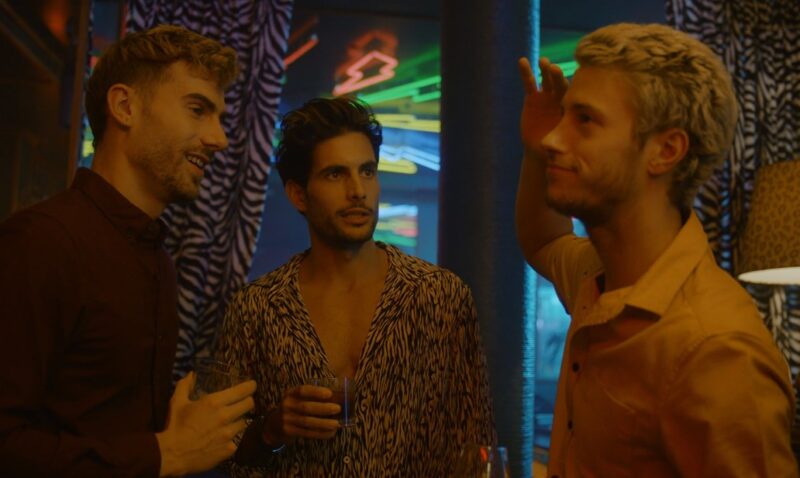 Located in the heart of Greenwich Village, Marie's Crisis is a piano bar that's heaven for Broadway enthusiasts. Here, you can belt out your favorite show tunes in a room full of strangers who'll soon feel like friends.
What to Expect
Crowd: A mix of theater aficionados, professionals, and those just looking to enjoy some classic tunes.
Vibe: Warm and welcoming, with a touch of theatrical flair.
Specials: No special drink offers, but the experience itself is the real special.
Sing Along!
While many bars offer live music or DJs, Marie's Crisis gives you a stage to be a part of the entertainment. With talented pianists who know just about every Broadway hit, you're sure to have an unforgettable night.
4. Boxers: For the Sports Enthusiast
Boxers is NYC's leading gay sports bar, but it's much more than that. With its relaxed atmosphere, rooftop patio, and dozens of HD TVs showcasing various sports, it creates a unique blend of entertainment and comfort.
What to Expect
Crowd: Diverse, from avid sports fans to those just looking for a chill evening.
Vibe: Casual and laid-back, with the option to engage in high-energy fun.
Specials: 2-for-1 happy hours and different themed nights like "Woof Wednesdays" for the bear community.
Multiple Locations
One of the great things about Boxers is that it has multiple locations across Manhattan, including Hell's Kitchen and the Upper East Side. Each offers a slightly different experience but maintains the core essence of what makes Boxers a standout.
3. Therapy: For Your Nightly Dose of Fun
View this post on Instagram
Located in the Hell's Kitchen neighborhood, Therapy is a two-floor nightclub that offers a modern, stylish escape from the city's hustle and bustle. With a daily lineup of events and one of the best drag shows in NYC, it's no wonder Therapy has become a go-to spot.
What to Expect
Crowd: A young, energetic crowd of locals and tourists.
Vibe: Trendy and high-energy, ideal for dancing and socializing.
Specials: Happy hour every day, plus regular drag shows featuring top-notch talent.
Events Galore
With a regular lineup of events that include drag shows, karaoke nights, and live DJs, Therapy keeps the party going all week long. Special themed nights like "Twisted Cabaret" offer a unique experience you won't find elsewhere.
2. Cubbyhole: Where Everyone Knows Your Name
View this post on Instagram
Cubbyhole is a lesbian bar in the West Village, but it's renowned for its inclusivity. The bar is a cozy, intimate space filled with eclectic décor, from ceiling-hung fish to kitschy knick-knacks, making it a visual feast as well as a welcoming atmosphere.
What to Expect
Crowd: A mix of lesbians, queer women, and friends from other parts of the LGBTQ+ community.
Vibe: Relaxed and casual, making it the perfect spot for conversations or a low-key evening.
Specials: Cheap drinks and themed nights, like $2 Margarita Tuesdays.
Community Focus
Cubbyhole isn't just about the drinks or décor; it's about the community. They host several charity events and community gatherings throughout the year, solidifying their reputation as a cornerstone of the NYC queer scene.
1. Stonewall Inn: The Birthplace of Pride
Stonewall Inn isn't just a bar; it's a historic landmark. Located in Greenwich Village, it is widely considered to be the birthplace of the modern LGBTQ+ rights movement. The 1969 Stonewall Riots marked a turning point, and ever since, the bar has stood as a symbol of resistance, freedom, and community.
What to Expect
Crowd: A mix of tourists, locals, and activists.
Vibe: Inspirational, with an atmosphere that respects the past but celebrates the present.
Specials: Various themed nights and the inevitable sense of being a part of something much larger than yourself.
Events and More
The Stonewall Inn hosts various events throughout the week, including drag shows, karaoke nights, and live DJs. During Pride Month, it's especially vibrant, serving as both a starting and ending point for many of the city's celebrations.
FAQs
Are all these bars located in Manhattan?
Most of the bars listed are in Manhattan, covering neighborhoods like Greenwich Village, Hell's Kitchen, and the East Village. However, Ginger's Bar is in Brooklyn, specifically in Park Slope, and Metropolitan is in Williamsburg, Brooklyn. NYC's gay bar scene is not confined to Manhattan and extends into other boroughs as well.
Do these bars have age restrictions?
Yes, like most bars in the United States, you need to be at least 21 years old to enter these establishments. Make sure to carry a valid ID to confirm your age.
Are these bars only for the LGBTQ+ community, or are they welcoming to allies as well?
While these bars are centered around the LGBTQ+ community and aim to create a safe space for them, they are generally welcoming to allies. However, it's important for allies to be respectful and considerate when visiting to maintain the integrity of these spaces.
Is it necessary to dress in theme for bars like The Eagle?
While The Eagle and similar bars are known for their themed nights and specific crowds, dressing in theme is usually optional. However, you may feel more a part of the scene if you participate, and some nights may have dress codes that are encouraged or required. Always check the bar's website or social media for details.
Are pets allowed in any of these bars?
Pet policies vary by establishment and can also depend on specific events. For example, some bars with outdoor patios, like Metropolitan in Williamsburg, may allow dogs on certain days. It's best to call ahead or check the bar's website to confirm their pet policy.
Do I need to book a table in advance for any of these bars?
For most of these bars, tables are generally first-come, first-served. However, during special events, holidays, or Pride Month, some bars may offer reservations or VIP packages. Therapy and Stonewall Inn, for instance, can get especially busy during performances or historic celebrations, so a reservation might be a good idea. Always check their websites or call in advance to confirm.
Final Words
From historic sites like the Stonewall Inn to newer additions like Therapy, New York City's gay bar scene is as diverse and vibrant as its population. Whether you're into sports, Broadway, or just a quiet place to have a drink, NYC has something for everyone in the LGBTQ+ community. So go out, explore, and find your new favorite spot—or ten.