As someone who has lived and breathed the City of Angels for years, I've come to appreciate its endless summer, Hollywood allure, and delectable food scene.
However, what truly sets LA apart for me is its effervescent and varied nightlife, particularly its bustling LGBTQ+ bar scene. This vibrant segment offers a kaleidoscope of experiences, welcoming everyone under the rainbow spectrum.
As a frequent visitor to Los Angeles bars, I've had countless nights of self-expression, camaraderie, and uninhibited fun. From posh cocktail lounges that make you feel like a celebrity to gritty dive bars that bring out your wild side, LA's got it all. Each bar paints a unique picture, mirroring the city's rich cultural mosaic. Let me take you on a personal tour of the finest gay bars in LA that have charmed me with their ambiance, creative cocktails, lively drag shows, and warm, inclusive atmosphere.
1. The Abbey Food & Bar
Nestled in the heart of West Hollywood, The Abbey Food & Bar is an institution in LA's gay bar scene. Named the Best Gay Bar in the World by Logo TV, it's an exceptional place to sip cocktails, enjoy delicious food, and socialize. With its stunning Gothic-inspired interiors, lively dance floor, and lush outdoor patio, The Abbey is an experience not to be missed.
The Abbey prides itself on its diverse crowd, ranging from Hollywood celebrities to LGBTQ+ advocates. It's also home to fabulous drag shows, themed nights, and charity events, cementing its place in LA's gay nightlife.
2. Akbar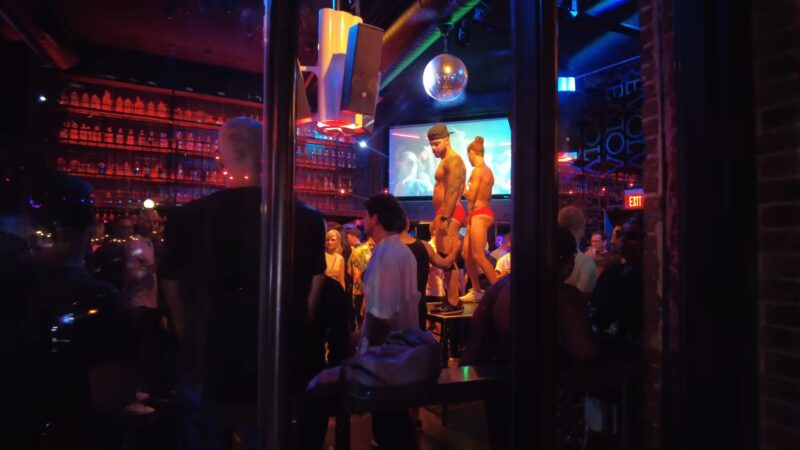 Located in Silver Lake, Akbar is a neighborhood bar with an indie vibe that stands out for its eclectic crowd, retro décor, and a calendar filled with unique events. From trivia nights to comedy shows and burlesque performances, there's always something happening at Akbar.
In addition to its vibrant programming, Akbar is well-regarded for its cocktail menu. Their mixologists are renowned for their creativity and finesse, serving up an array of drinks that cater to a broad range of tastes. Whether you're a craft cocktail enthusiast or a beer lover, Akbar has you covered.
3. Micky's West Hollywood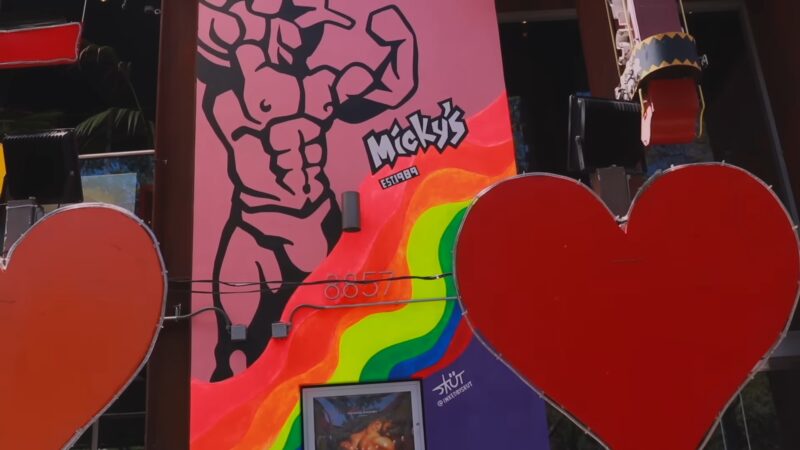 Micky's West Hollywood combines the best of gay bar culture with an electrifying nightlife vibe. This two-story bar offers everything from go-go dancers and drags shows to theme nights and top-notch DJs. The ground floor hosts events and shows, while the upstairs area is more lounge-like, perfect for chilling and conversation.
Micky's is also renowned for its Monday "Showgirls" night, a must-see drag show that features contestants from RuPaul's Drag Race. This show, along with its friendly staff, strong cocktails, and vibrant energy, ensures that Micky's continues to be a hotspot in LA's gay bar scene.
4. Trunks Bar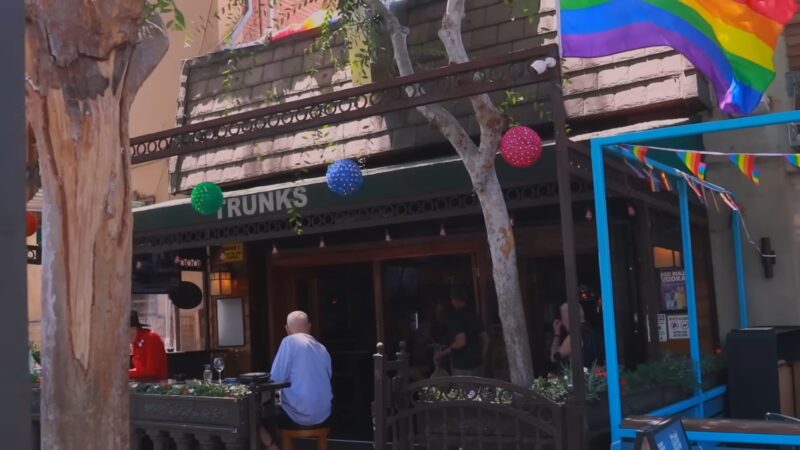 Trunks Bar in West Hollywood is a laid-back sports bar where everyone is welcome. The atmosphere is relaxed, making it a great spot for those looking to enjoy a chill evening with friends, watch sports games, or shoot some pool.
Despite its sports bar designation, Trunks doesn't shy away from the glitz and glam. The bar hosts regular drag shows and has a dance floor that comes alive with the DJ's tunes. The bar staff is warm and friendly, and the drink prices are notably affordable, making Trunks a beloved staple in the local community.
5. Eagle LA
Eagle LA, located in Silver Lake, pays homage to the classic leather bars of yesteryears and has a strong following among the LGBTQ+ community. With its dark and moody interiors, the bar exudes a raw and rugged charm that's truly distinctive.
Regular theme nights like Leather Mondays, karaoke on Tuesdays, and uniform dress code on the weekends make Eagle LA a unique spot on the gay bar map. Known for its welcoming and inclusive spirit, Eagle LA is a must-visit for those seeking an authentic and less-trodden path in LA's gay nightlife.
6. Bar Mattachine
Named after the first gay rights activist organization, Bar Mattachine in Downtown LA is a classy cocktail bar that seamlessly blends history with a modern vibe. The bar, with its sophisticated interior and curated cocktail menu, pays tribute to the Mattachine Society's brave spirit.
Bar Mattachine offers a rotating selection of craft cocktails that are as inventive as they are delicious. Alongside the drinks, the bar also hosts engaging events like drag bingo, live music, and burlesque performances, making it a sophisticated addition to LA's gay bar circuit.
7. The Bullet Bar
View this post on Instagram
The Bullet Bar is a no-fuss, traditional men's bar in North Hollywood. With its dark wood, pool table, and leather-clad patrons, the bar offers a throwback to classic gay bar culture. Known for its unpretentious atmosphere, The Bullet Bar attracts a friendly crowd and hosts various themed nights.
From karaoke evenings to leather dress-code nights, the bar's events calendar is packed with activities that cater to diverse preferences. If you're looking for a laid-back evening in a traditional setting, The Bullet Bar might just be your kind of place.
8. Faultline Bar
View this post on Instagram
Known for its legendary beer busts, Faultline Bar has been a part of Silver Lake's gay bar scene for over two decades. The bar attracts a mixed crowd, offering an expansive patio, dance floor, and regular themed events, from drag shows to fetish nights.
Faultline Bar has earned its reputation as a fun-loving, all-welcoming space where everyone can enjoy a good time. With its robust beer selection and friendly vibe, Faultline Bar continues to be a popular choice among locals and tourists alike.
9. Precinct DTLA
Precinct DTLA, located in downtown Los Angeles, is a popular gay bar and nightclub known for its punk-rock atmosphere and rooftop deck. The bar hosts a plethora of events, including drag shows, burlesque performances, and dance parties.
The charm of Precinct DTLA lies in its inclusive, free-spirited atmosphere that invites everyone to let their hair down and have a good time. Whether you're there to catch a drag show or to dance the night away, Precinct DTLA guarantees a night full of excitement.
10. Hi Tops
View this post on Instagram
Hi Tops, LA's first gay sports bar, offers a comfortable atmosphere for everyone, regardless of their interest in sports. Located in West Hollywood, Hi Tops is famous for its communal tables, ample televisions, and friendly patrons.
Beyond the sports bar theme, Hi Tops also offers a full menu of comfort food and a range of beers and cocktails. The atmosphere is welcoming and relaxed, making it a favorite spot for both sports fans and those looking for a laid-back evening.
11. Gym Sportsbar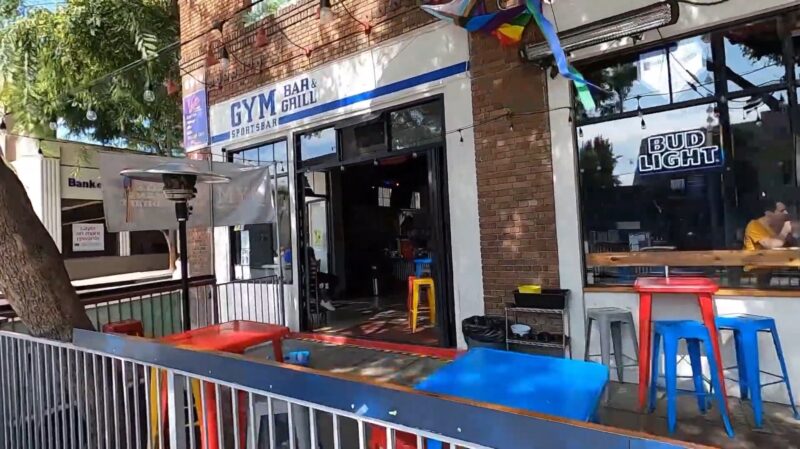 Gym Sportsbar in West Hollywood is another popular gay sports bar that has made a name for itself in LA's gay bar scene. The bar features multiple screens playing various sports games, and its happy hours are highly sought after.
While sports is the main theme, Gym Sportsbar also hosts regular events like drag shows, trivia nights, and dance parties, ensuring there's something for everyone. The friendly staff and laid-back vibe make this bar a must-visit spot in LA.
12. Fubar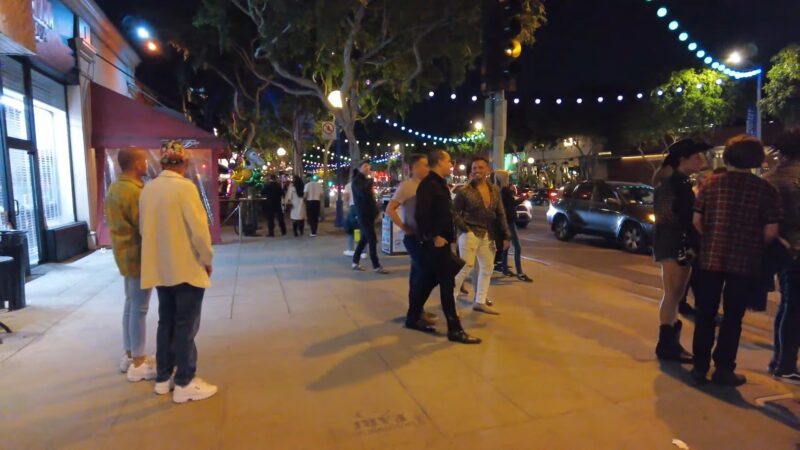 For those seeking a wilder night out, Fubar in West Hollywood offers an edgy, alternative experience. Known for its raucous dance parties and provocative themed nights, Fubar definitely lives up to its tagline, "Not your father's gay bar."
The bar is known for its lively crowd, friendly staff, and outlandish events that set it apart from other gay bars in the area. If you're seeking a memorable night filled with unabashed fun, Fubar is the place to be.
13. Roosterfish
View this post on Instagram
Roosterfish, located in the quirky neighborhood of Venice, is a relaxed and welcoming bar that has been serving the community for over three decades. Known for its chilled atmosphere and art-adorned walls, Roosterfish is a delightful escape from the more bustling gay bars of the city.
The bar offers a comprehensive drink menu and hosts regular events like quiz nights and happy hours. The relaxed vibe and beachy location make Roosterfish a popular choice for those seeking a more low-key night out.
14. Club Tempo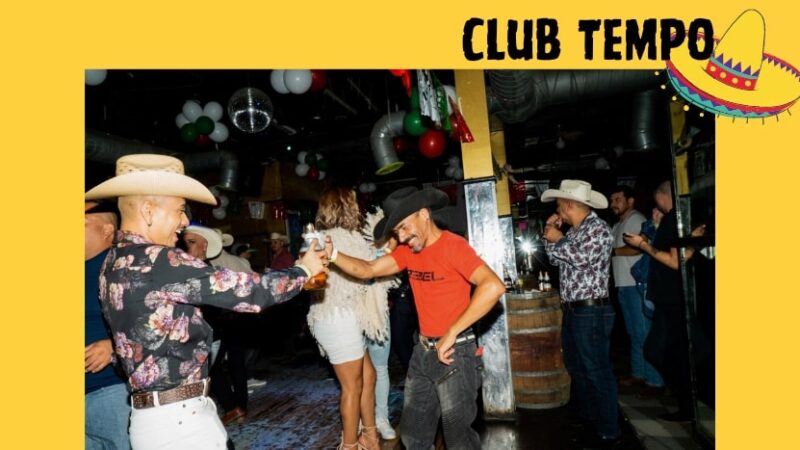 Club Tempo, located in West Hollywood, is renowned for its Latin nights and spirited dance floor. The club offers a mix of music from salsa and merengue to pop and reggaeton, making it a hit among those seeking a vibrant, dance-filled night.
Club Tempo's inclusive and energetic atmosphere, along with its diverse music selection, make it a unique addition to the gay bar scene in LA. Whether you're a seasoned salsa dancer or a newbie, Club Tempo guarantees a night of fun and vibrant Latin rhythms.
A Nightlife for Everyone
In Los Angeles, there's a gay bar for everyone, each offering a unique experience that's as diverse as the city itself. These 15 bars capture the essence of LA's vibrant gay nightlife, providing spaces of joy, camaraderie, and celebration for everyone under the LGBTQ+ spectrum. From historic West Hollywood institutions to the alternative indie vibes of Silver Lake and Downtown LA, the city's gay bars offer a night to remember.
So, why wait? Plan your LA adventure now and immerse yourself in a nightlife that's truly one-of-a-kind. Whether you're a local or a visitor, let the City of Angels show you a night that you won't soon forget. Dive into the rich tapestry of LA's gay bar scene and create memories that will last a lifetime. Remember, the night is always young in Los Angeles!